BOOK NAME: THE NOISY PAINTBOX
AUTHOR: BARB ROSENSTOCK
ILLUSTRATOR: MARY GRANDPRE
PUBLISHER: KNOPF BOOKS FOR YOUNG READERS
PAGES: 32
AGE RECOMMENDED: 4+
How do we all appreciate art? Art can be found anywhere: A child's first scribble is an art to his parents—the leaves and flowers in the plant can be an inspiration to draw. Likewise, this is a biography about a famous painter who drew art-like music to our ears.
The Noisy paintbox is the biography of the famous painter 'Vasay Kandinsky' and the first person to create abstract art.
Vasya was a proper Russian boy who learned to study classics, science, practice piano and appreciate acceptable art. His aunt gifted him a paint box, so he was curious to explore the colours. But eventually, he could hear colours singing to him like the music and colours hissing when they mingled together. He was so surprised to hear music while mixing colours and his family did not appreciate that.
Days rolled by, he became a lawyer, and he began teaching. Eventually, he moved to Munich and studied normal painting that is understood by all. One night he went to an opera and there he could hear his paintbox calling him and that's when his abstract art movement started. With passion and power, he created that sound on canvas with paints, patterns, shapes, and swirls and named each one by his favourite music.
It took a few years before people appreciated his art and Vasya told "Art should make you feel like music"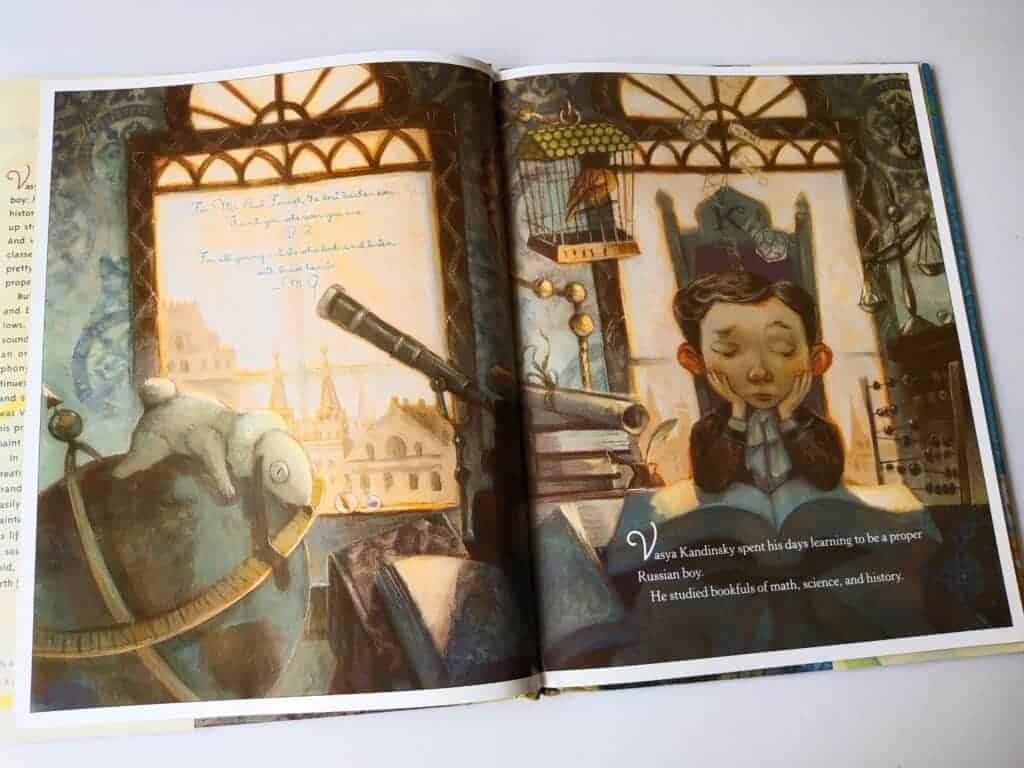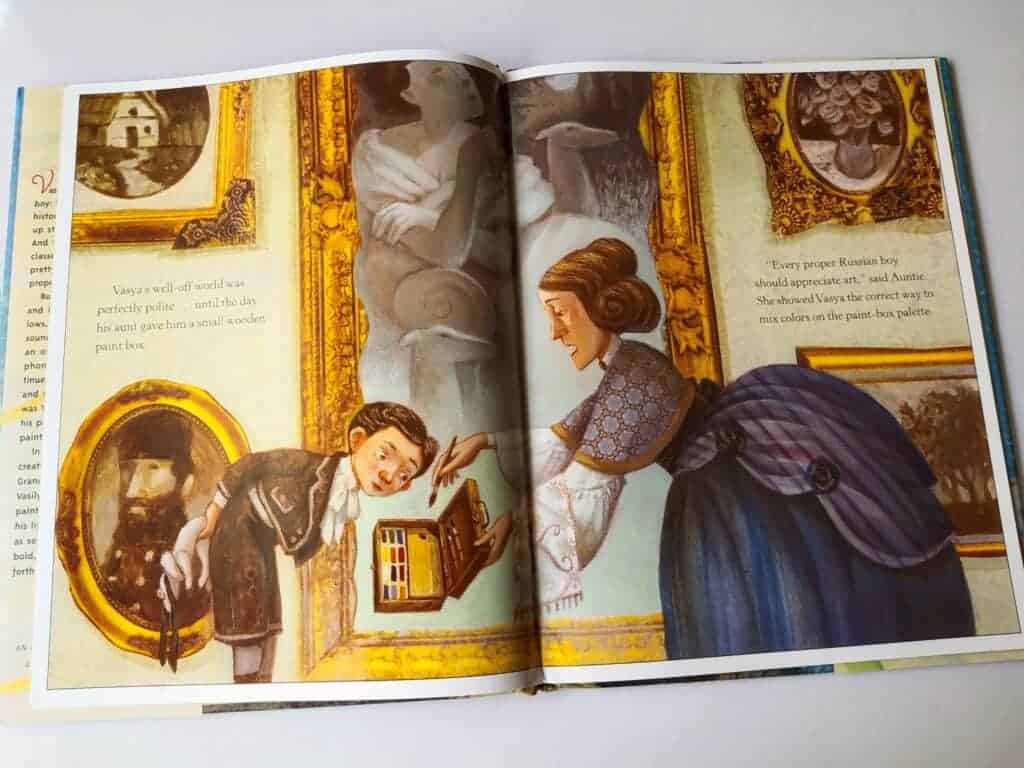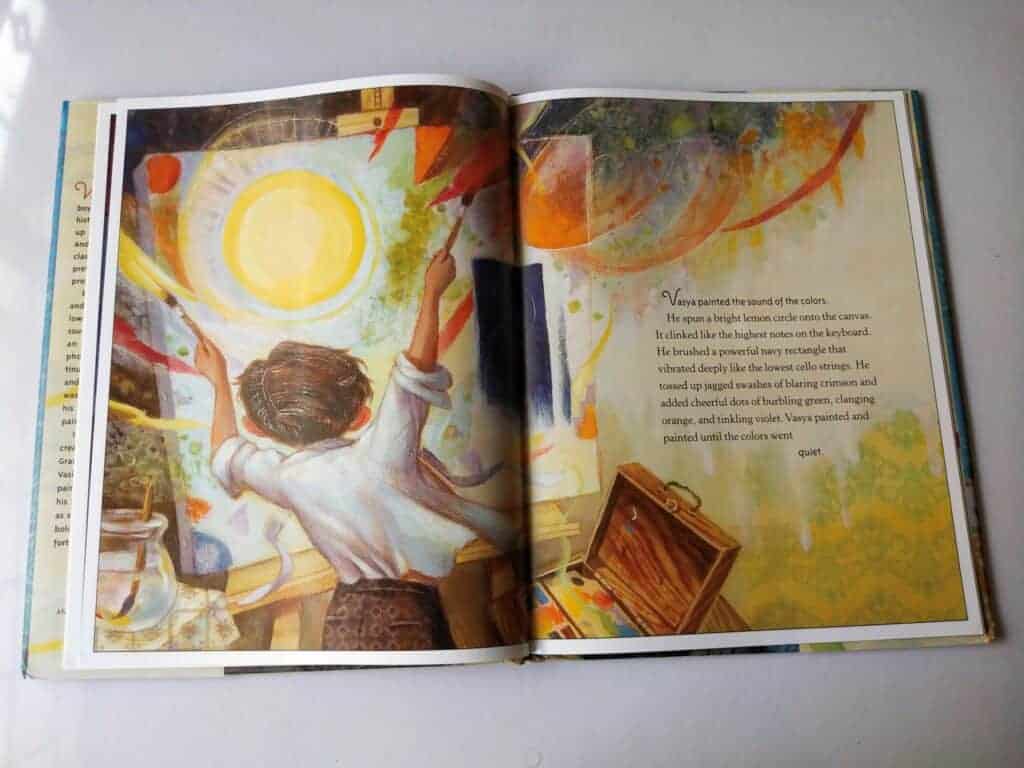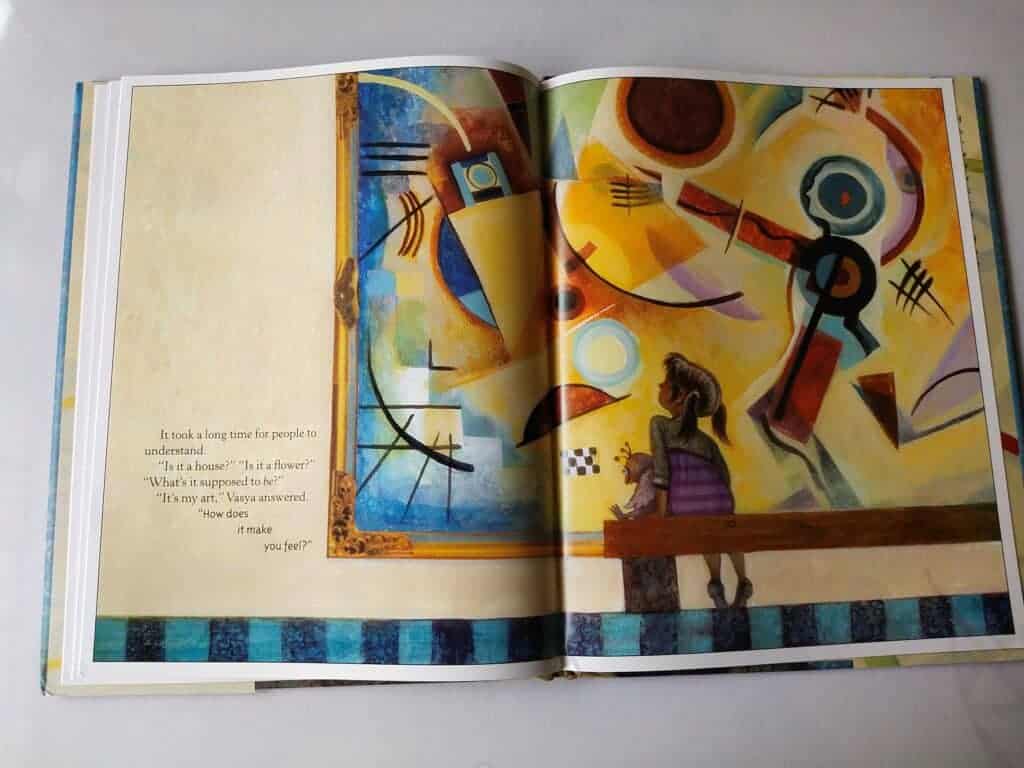 An exquisite book with a mix of fiction and non-fiction works and mind-blowing illustrations on each page. The author's note at the end tells a brief history of Vasya and how his life took forward after he received the paintbox from his aunt. It also said Vasya may have a genetic disorder called Synesthesia and those people can hear the music because of a trigger. It is also said that there are over 60 types of synesthesia and it occurs in one of 5,000 people.
There are few paintings added by the author at the end and it was so mesmerising to see them. I came to know about Kandinsky through 'Kandinsky circles' that was doing rounds all over social media for quite some time. I loved them and waiting for Nathan to grow up a bit, to appreciate the art and the artists.
What are Kandinsky circles? Kandinsky used a grid composition and within each square he painted concentric circles, meaning that the circles share a central point. He believed the circle had symbolic significance on the mysteries of the cosmos, and he used it as an abstract form.
This book is bound for a great discussion with kids, where we can ask them how we can create art with music. I thought maybe we can create music and art using a rubber band. Tie the rubber band in a rectangular box and pull the strings. It will make noise, and we can get unique patterns under the paper. Art can be in any format, right?
The author has also linked a few Kandinsky websites, and we can explore more about the art using the resources.
I enjoyed the narrative by the author and I believe this will be an impressive addition to your home library if you love to read books about art.
To read more book reviews CLICK HERE
Please follow and like us: