Poha idly/aval idly/idly/rice rava idly/instant idly is made from idli rava/rice rava and poha. I stumbled into this recipe when I didn't have anything to prepare breakfast. I had poha, curd and idli rava and mixed everything to make this recipe. This is an easy recipe, as it doesn't need any grinding/soaking/fermenting.
Traditional idly batter requires grinding and fermenting. But this is a very quick-fix breakfast and you could fool anyone by saying it as idly.
These idly are so white, soft and spongy. I liked the texture very much and will make them often. I served with spicy onion and tomato chutney.
Instant Poha Idly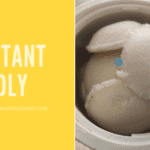 1 cup aval/poha
1.5 cup idly rava
2 cup beaten curd
pinch baking soda
water as required
salt to taste
oil to grease idly moulds
Rinse poha in water and drain the water. Add 1 cup of curd to poha and soak for 10 mins. If your poha is too soft, don't need soaking. you can mix curd and poha together.

Now add 1.5 cup of idly/rice rava, 1 cup curd, and water as required.

Let this mixture soak for 15 mins. The idly rava will absorb all the water.

We will have a thick mixture and slowly add water to get a nice idly batter consistency, Add water slowly, we don't want the mixture to be too watery.

Add some salt to taste. just before steaming add a pinch of baking soda and mix well.

Don't rest the batter, grease the moulds, and pour the mixture in the idly plate.

Steam for 10-15 mins in medium flame.

Serve hot with any spicy chutney
You can use any poha. Not necessary to use only white poha
If you use thick poha, resting time will be a little long.
You can store this batter in the fridge for the next day without adding baking soda.
This batter requires no fermenting and this can be done in a jiffy.
Try this recipe and let me know how is it.
To read more easy recipes CLICK HERE
Please follow and like us: