BOOK NAME: ROOSTER RAGA
AUTHOR: NATASHA SHARMA
ILLUSTRATOR: PRIYA KURIYAN
PAGES: 28
PUBLISHER: TULIKA
AGE RECOMMENDED: 2+
Do you know every rooster sings Kukaroo kuroo raga, there's a rooster called Ruru who can make different ragas but not Kukaroo kuroo. His friends try to help in all possible ways, but end up hearing new ragas. Will Ruru be singing Kukaroo Kuroo like other roosters? Gear up for a stretch, stamp and roll while Ruru is learning her raga and how she does her morning raga.
Brilliant illustrations and very simple text for young kids. A beautiful interactive book where one can make animal sounds and have fun by stamping, moving and rolling just like them. We enjoyed the illustrations and how the author used Ruru to portray the message "Just be you".
We need to hear this line " just be you" every single day to free ourselves from comparison and negative thoughts that surround us. Each one of us is brilliant in different things and never stresses over things in which we may not be well versed as others. Be like Ruru and dance to our own tunes.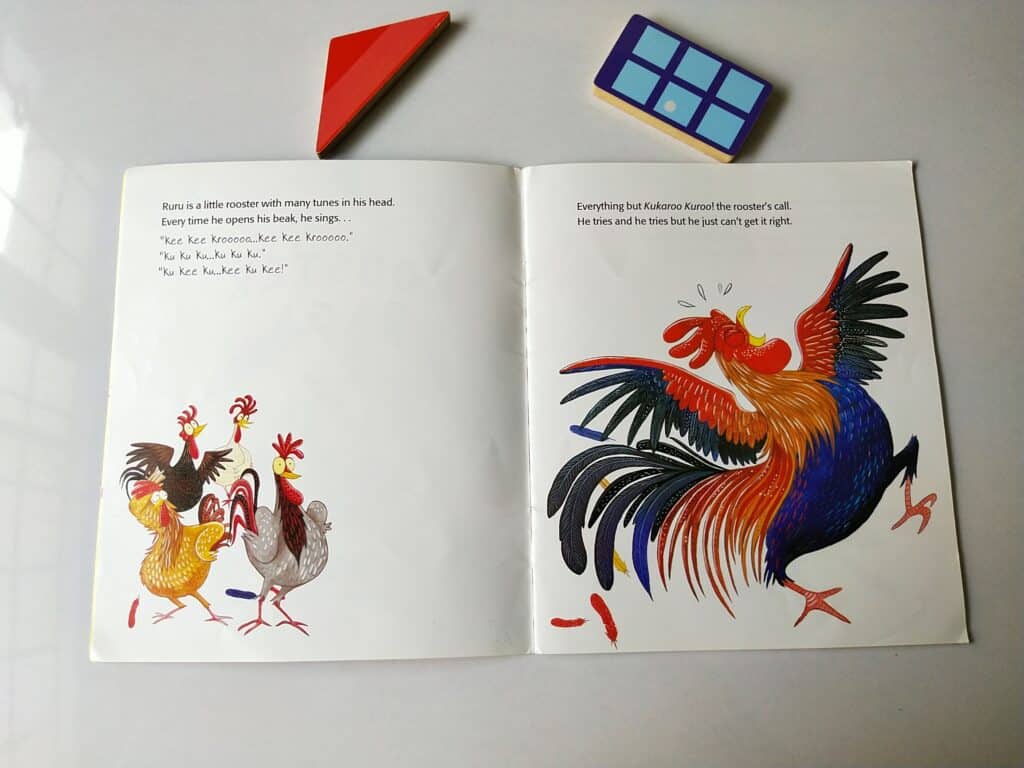 To do the rooster raga just like Ruru, follow these steps,
SHAKE YOUR HEAD- MOVE YOUR LEFT TO RIGHT

DO THE MOO- BOB THE HEAD UP AND DOWN

STAMP YOUR FEET- STAMP IT LEFT RIGHT LEFT RIGHT

ROLL IN GOO- ROLL ARMS IN CIRCLE

GRUNT AND MEOW- STRETCH YOUR BACK

DO THE QUACK- FLAP YOUR ARMA LIKE WINGS

NOTHING YOU DO IS OUT OF WHACK- JUMP UP HIGH

JUST BE YOU- TAKE A BOW
The author has given free worksheets (click here) to do with while reading this book.
To read more Indian stories CLICK HERE
Please follow and like us: