Grief and death are two painful words, and no one should experience them suddenly. This pandemic has made many families go through the pain of losing a loved one. My friend Grace curated a list for such families and she was kind enough to let me use some recommendations in my posts. You can check out the Instagram post here. CLICK HERE
In the Christian faith, we are taught, that death means rest. The earthly body is planted into the soil and we are waiting for the return of Jesus to accept the glorious body. Nathan lost his grandfather months back and one thing to answer his question was, your grandfather is in heaven and he will come back when Jesus comes back to take us along. It pained me to answer his question; Amma will I die too?
I hope the below books will help you to answer the kid's question.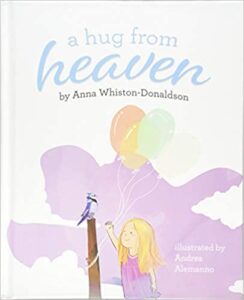 Written as a simple poem of love from the person who died, this book reminds children – and adults alike – that it is okay to hurt, to live a positive life, and to find special ways to honour the ones we love.
It is a day when everything aches and nails are raining from the sky. Anna's mother has died. Anna and her father are making their way to the funeral. But along the way they talk — capturing memories, asking hard questions, picturing what heaven might be like. Anna's imagination leads both of them on a journey that, by the end, might just offer a certain sort of peace.
Where is Heaven? Have you ever watched the clouds when the sun slips low into the sky? Sometimes before you see the night's first little star, you can almost see castles and great houses in the clouds. You can almost imagine the setting sun reflecting the gold and red of Heaven's high windows. – Does God's home look like that? – Will He take me to His home someday? – What will it be like? It's okay to have questions about Heaven — we all do. There are some things we do know because the Bible tells us a little about them. But there are many things we don't know. Heaven is more incredible and glorious than we can picture in our minds. But I don't think God would mind if we used our imaginations to try, just a little. Do you?

When I'm With Jesus is a book that helps children see a loved one's transition to Heaven as a joyful thing, and know they are still loved, even when that person is no longer near.

"The Next Place" is an inspirational journey of light and hope to a place where earthly hurts are left behind. An uncomplicated journey of awe and wonder to a destination without barriers.

Written in verse, this book describes Heaven to children as being a Land of Surprises and the host of the best party ever. It gives comfort from the Bible to those who have lost loved ones.

The thought of dying can make any child sad and scared. Will it hurt? Does God want me to die? Where is heaven? Will Mom and Dad be there? How do I get there if I'm buried in the ground? In this simple yet profound book, your children will see for themselves the reasons people die… and what God has in store for them in heaven.

Jesus knew how scary it is when someone gets really sick. He knew how sad it is when someone dies. Jesus cried when his friend, Lazarus, died. But he did something at his friend's tomb that changed everything. He showed that he came to give his friends life after death. In this vivid, moving and exciting retelling of the story of Lazarus.

After the death of his father, Little Tree begins to learn how to cope with his feelings and start the healing process. With the help and support of his family and friends, Little Tree learns to cope by discovering what is really important in life and that his father's memory will carry on.

With tender words, her Papa describes a wonderful place, free of sadness and tears, where God warmly welcomes his loved ones after their life on earth is over. Little Cub and Papa spend the day wandering their beautiful, invigorating arctic world while she asks all about God's home: How do we get to heaven? Will we eat there? Will I get to see you in heaven? Papa patiently answers each question, assuring her that… "Heaven will be full of everything good."

When a little girl's grandmother dies, her father explains the meaning of death and tells her that because of her grandmother's faith in Jesus, she has gone to her new home in heaven.
Little Seed and Little Fox are facing changes and brand-new circumstances–and they don't like it one bit! Through this unlikely friendship, children will discover that no matter how new or fearful their circumstances, and, God is always with them.
Examines the process of grief through a fictional story of Grandy and Pops as they face a great loss by making tear soup.
The cousins visit their grandparents for Grandma Pinky's 80th birthday. During their visit, their grandparents' neighbour, Mr Higgins, passes away. Grandma reads the Bible and tells her grandchildren how wonderful heaven is and how there will be no more tears, pain, or suffering. The children understand that they do not have to fear death because their belief in Jesus guarantees they will live forever with Him in heaven.

Someone I Love Died has long comforted the hearts of children 4 to 8 who have lost someone close. It gently leads children through grief with age-appropriate words and solid biblical truth that understands a child's hurting heart. The added interactive resources ensure this book will become a treasured keepsake. Once complete, children create a memory book of their loved one's life. And it offers grown-ups a tool that turns what could be a difficult season into a meaningful time of healing.

"Water Bugs and Dragonflies," tells the story of a small colony of water bugs living happily below the surface of a quiet pond. Every so often one of them climbs up a lily stalk and disappears, never to return. Those left behind are faced with the mystery of figuring out what has become of them.
As a small boy and his grandfather spend the day together, he reassures his grandson of God's love no matter what or where, by describing God's plan for His people as described in the Bible.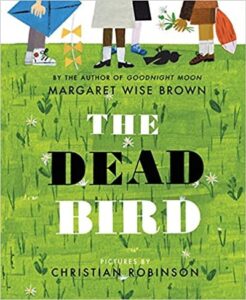 One day, the children find a bird lying on its side with its eyes closed and no heartbeat. They are very sorry, so they decide to say goodbye. In the park, they dig a hole for the bird and cover it with warm sweet ferns and flowers. Finally, they sing sweet songs to send the little bird on its way. A beautiful book to share with children beginning to grapple with loss.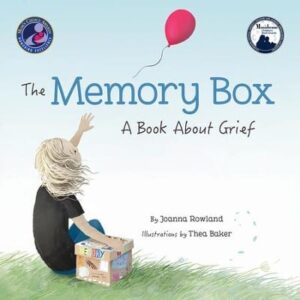 "When a loved one dies, children need consolation, love, support, and affection. The Memory Box addresses this difficult subject sensitively. This beautiful book will help start the grieving process and support children to talk about their loved one in a normal, healthy way."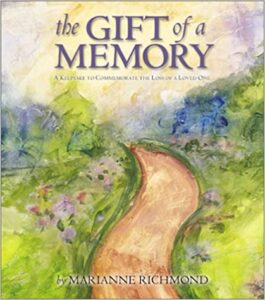 The Gift of a Memory is a warm and gentle gift of love that commemorates the loss of a special life and celebrates our most cherished memories. Each page, with its tender prose and reflective artwork, is a hug for the healing heart.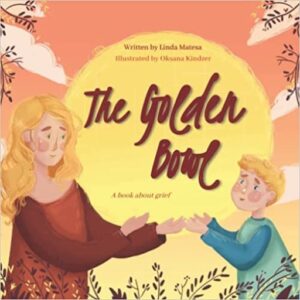 This story was written after the author's second brain tumour surgery when deteriorated health evoked thoughts about death. A very nice story about a child and a mom about death and what happens after the death. How can a person cope with the death of a loved one and how they can have them in their hearts forever.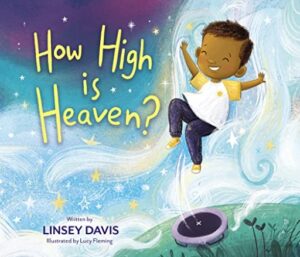 Children ask a lot of questions when it comes to heaven, particularly when they've experienced the loss of a loved one. In this uplifting, imaginative picture book, How High Is Heaven? inspires hope and comfort in readers young and old, that heaven can be experienced here and now and is open to us all.
Mima is very sick, and just thinking about it makes Julian very sad and very angry. Julian is worried about Mima and wonders if God can hear her or if God cares. So Mima explains to Julian that God loves us and that God can be trusted even when we are sad or angry. This gentle story of a grandmother's love for her granddaughter incorporates the timeless wisdom of Julian of Norwich: because of God's great love for us, all will be well.
To read more book reviews CLICK HERE
If you are looking for international books about grief & death, CLICK HERE
If you are looking for an Indian author book about grief & death. CLICK HERE
Please follow and like us: