BOOK NAME: GRANDMA BIRD
AUTHOR & ILLUSTRATOR: BENJI DAVIES
PUBLISHER: SIMON & SCHUSTER CHILDREN'S UK
PAGES: 32
AGE RECOMMENDED: 3.5+
This is the next book in the series of the Storm whale. You can read the storm whale review HERE
One summer, Noi decided to go for a vacation to his grandma's house. Noi's grandma lived on a small, deserted island and she was alone. She was always busy and Noi had to keep himself busy by doing something. One day, he decided to explore the island all by himself and he spotted a big cave.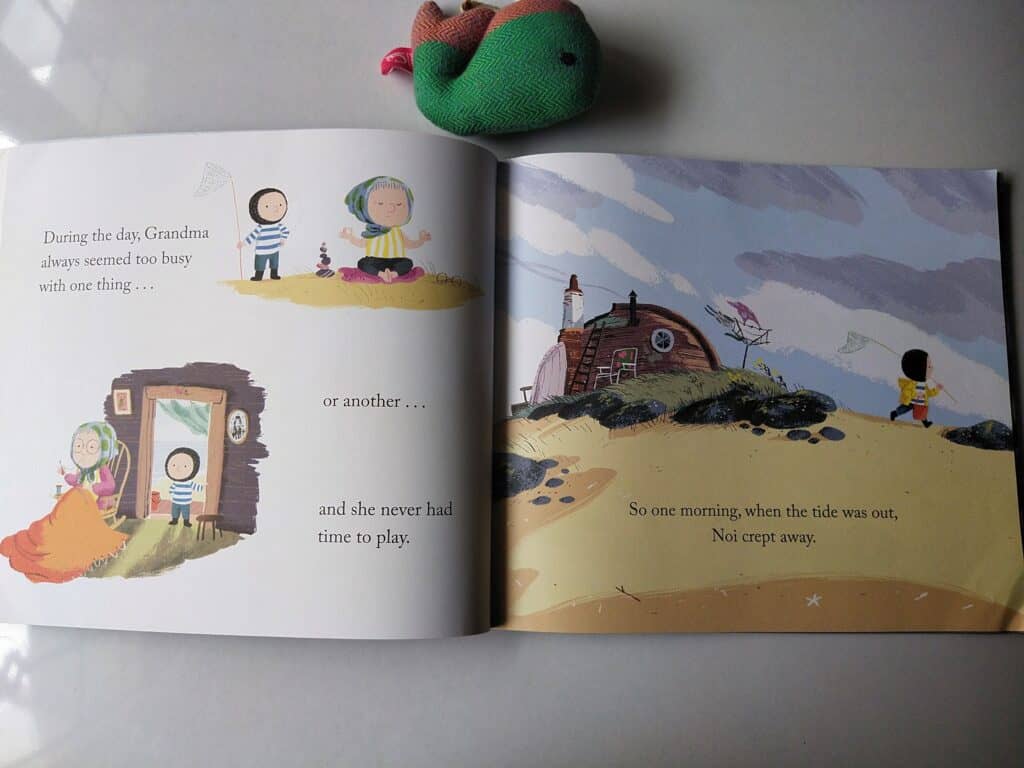 He goes to play inside the cave unaware of the incoming tide due to the storm, he was trapped along with a bird. He didn't know what to do, and amid the storm, he hopped along the rocks, seeing a sailboat coming toward him.
Noi was surprised to see his grandma in the sailboat and was happy that she came to rescue him. While going back, he saw some more birds lying in the rock, He collected all the birds and took them home. They both helped the birds to dry and kept them inside until the storm passed by.
Once the storm got over, all the birds left except the Noi's bird, which he first rescued in the storm. Noi was so happy with his grandma and the rest of the summer they both spent exploring the whole island and this was his best summer.
A simple story with gorgeous illustrations by Benji Davies. Each one of us will have memories of our grandparents and how our summer holidays were wonderful. This story will always remind me of my grandma and those memories will forever be etched in my heart, just like Noi.
What's your memory of your grandparents? Let me know in the comments below.
To read more Benji Davies books, click on the links below.
To read more book reviews CLICK HERE
Please follow and like us: