BOOK NAME: THE STORM WHALE AND THE STORM IN WHALE WINTER
AUTHOR & ILLUSTRATOR: BENJI DAVIES
PUBLISHER: SIMON & SCHUSTER UK
PAGES: 32
AGE RECOMMENDED: 3+
Storm whale is a series of stories, which talks about the main protagonist Noi and his relationship with his father and how he longed for a friend. This series has two stories and they are so heartwarming and talks about an important trait to young children.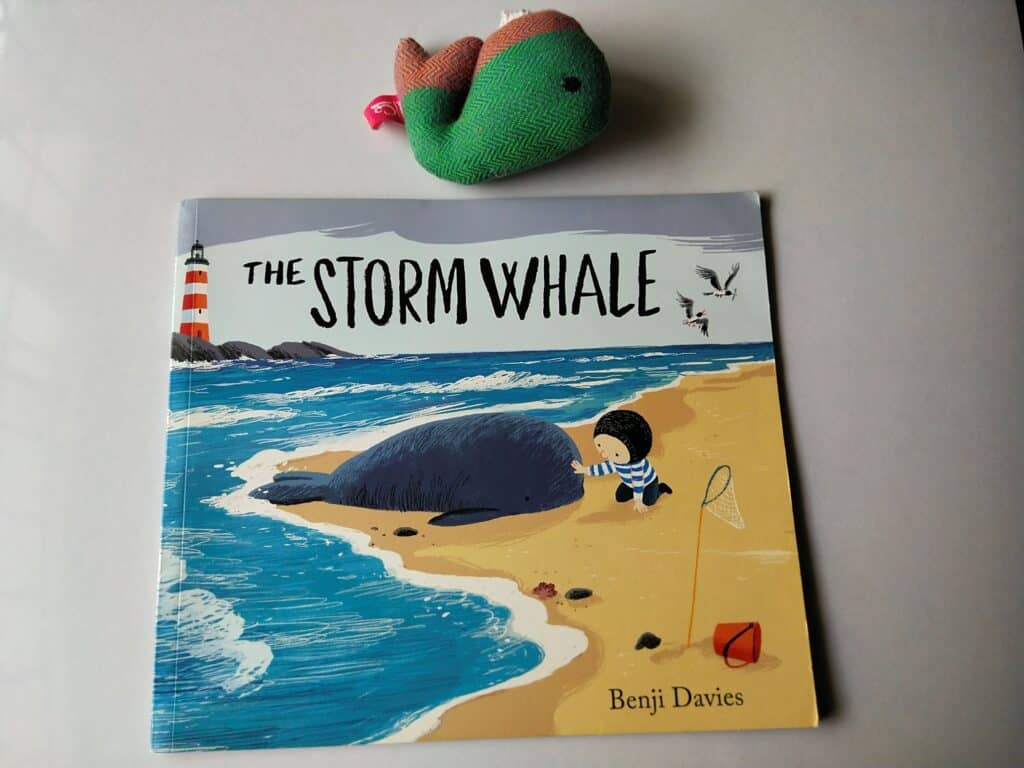 The storm whale is a story about a boy named Noi who lived with his father and six cats. Noi's dad was a fisherman and he left for work early and came by dark. He is all alone until his father returns.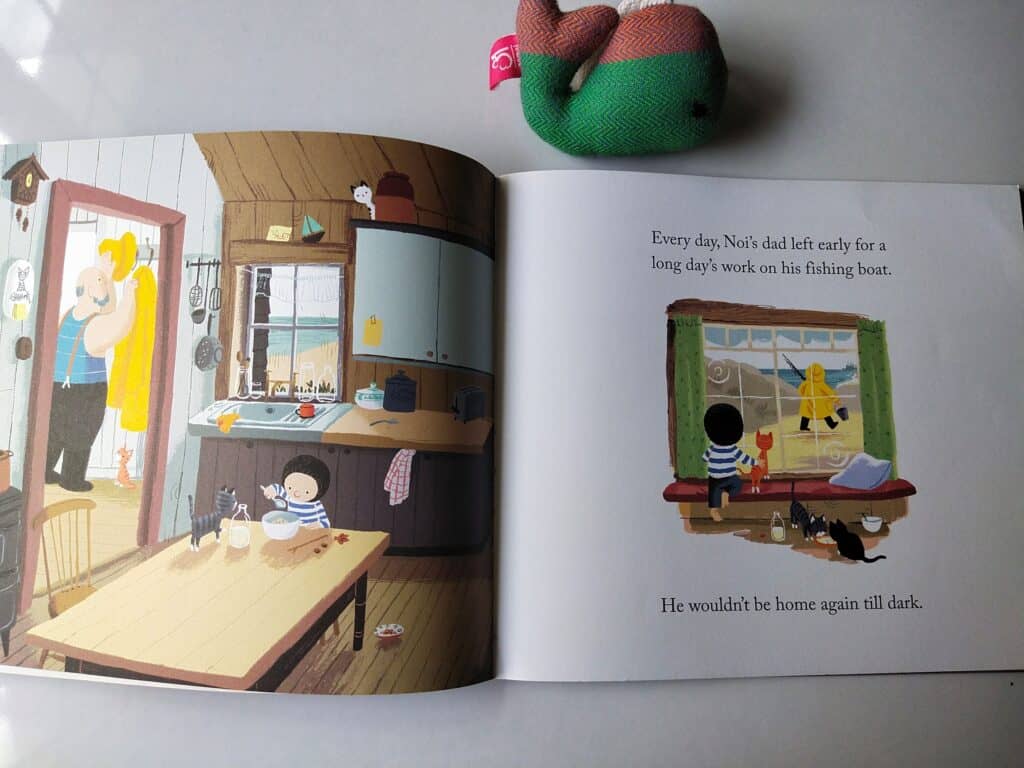 After a rough storm last night, Noi wanted to check if anything is washed by the shore and to his surprise he found a whale washed by the shore. He knew that whales cannot be outside water for long, and he bought a trolley and hid the whale in his bathtub. He made sure the whale was not missing the sea and was caring for the whale gently. He found whale was a good listener, and he poured his heart into the whale.
Noi decided not to tell his dad about the whale and he sneaked in some fish for the whale before being found by his dad. Seeing Noi's scared face, Noi's dad realised how Noi was alone in the house and how he yearned for a friend. Noi's dad said it's hard to say goodbye to your friend, but he will make things alright between them.
Noi and his dad together rowed the boat and left the whale in the sea. Noi was glad that his dad was with him and he felt much better.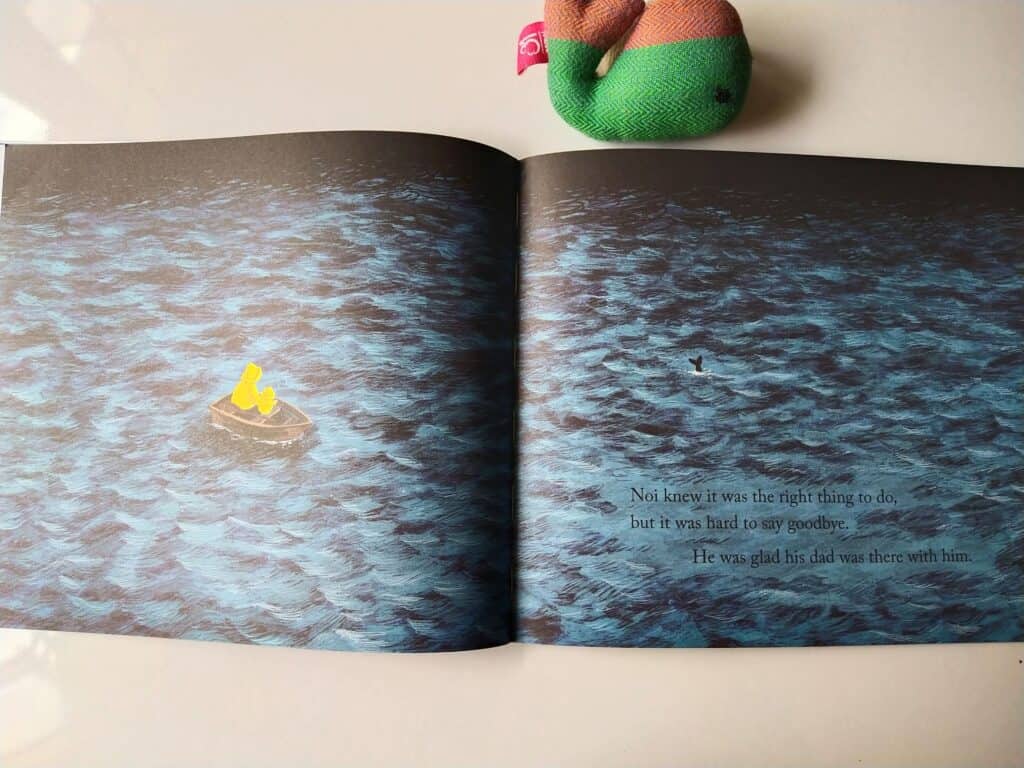 From that moment Noi and his dad started spending more time together and Noi enjoyed every moment he spent with his dad. A beautiful ending to this heartwarming story.
The storm whale in winter is the sequel of the series. The storm whale.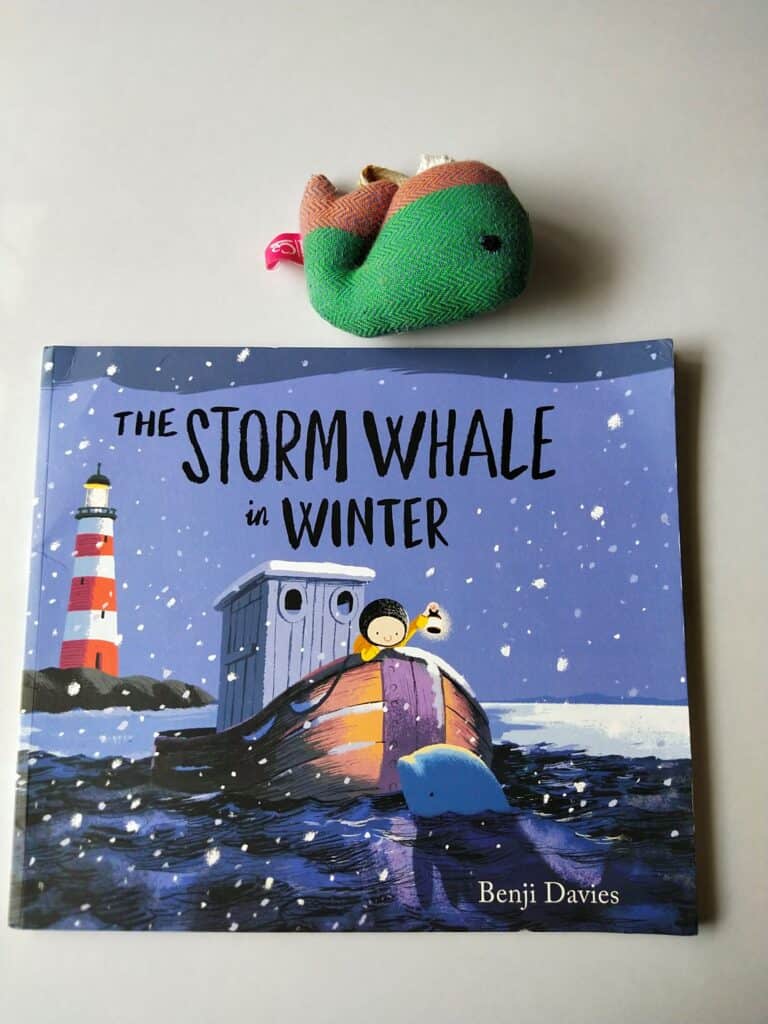 Noi rescued the storm whale at the end of summer and he never stopped thinking of the storm whale from then. It was the start of winter and Noi's dad decided to go fishing one last time. He left with his boat and didn't return.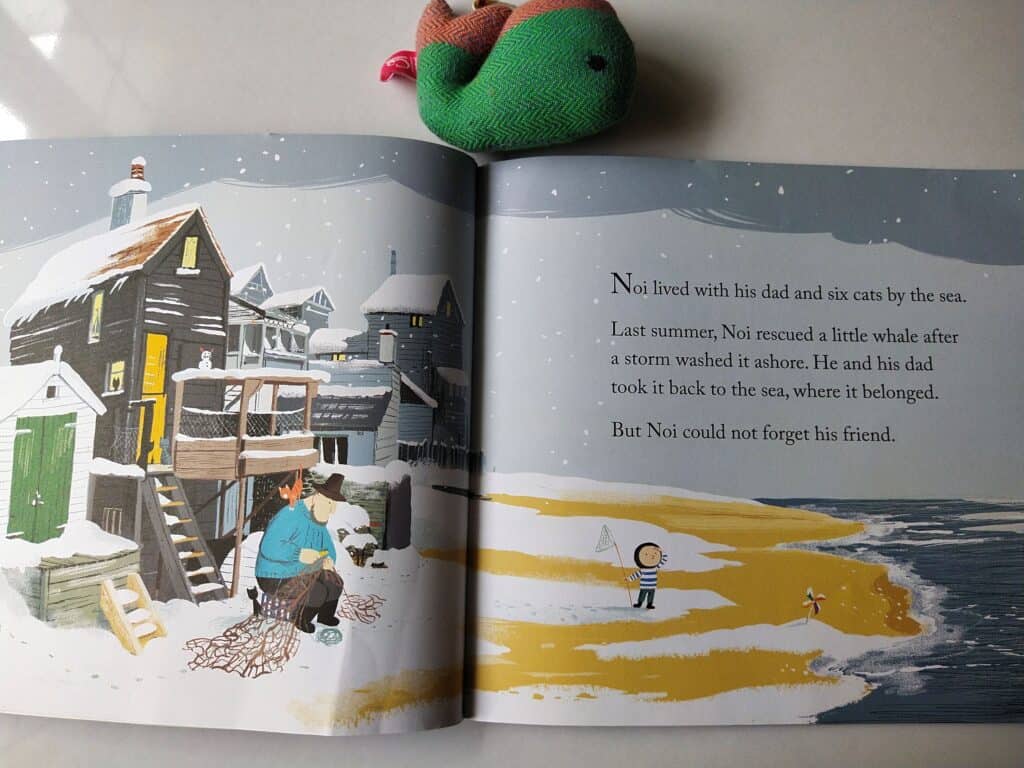 Noi, who was waiting patiently all this while, decided to look out for his dad in a boat. He put on his boots and stormed out of his house to find his dad.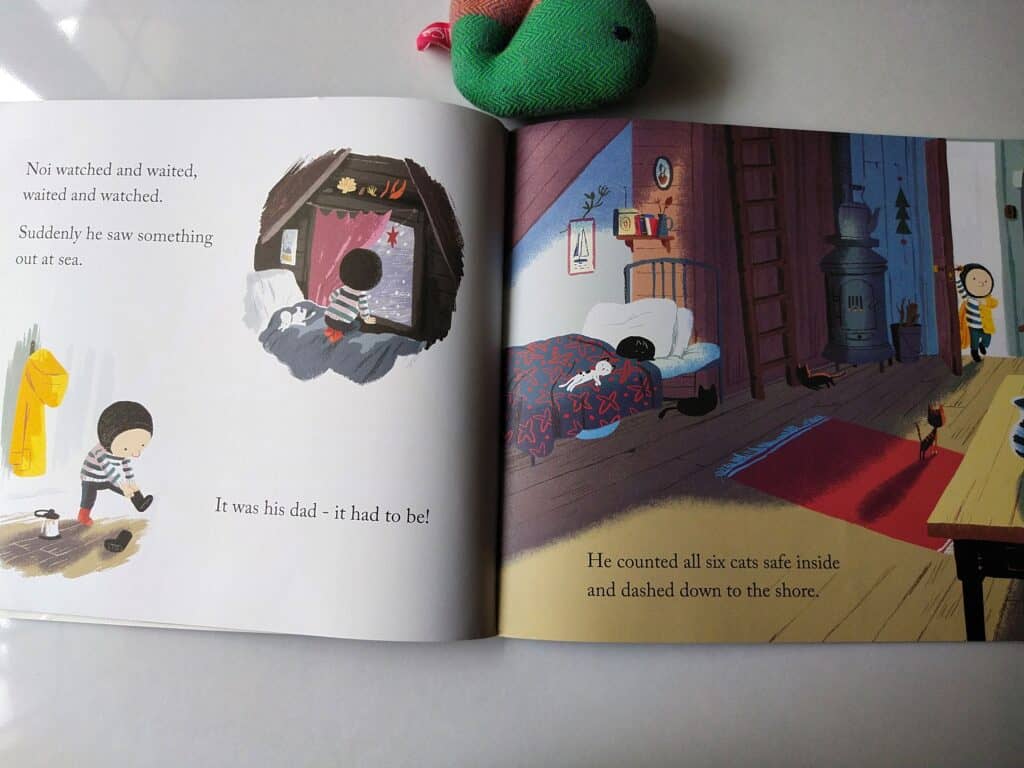 Noi was rowing hard in the snow and at a distance, he found a boat in his lampshade. He ran quickly and found his dad's boat stuck in the snow, but he was not there inside. Noi was so scared and decided to sleep in the boat until he heard a bump.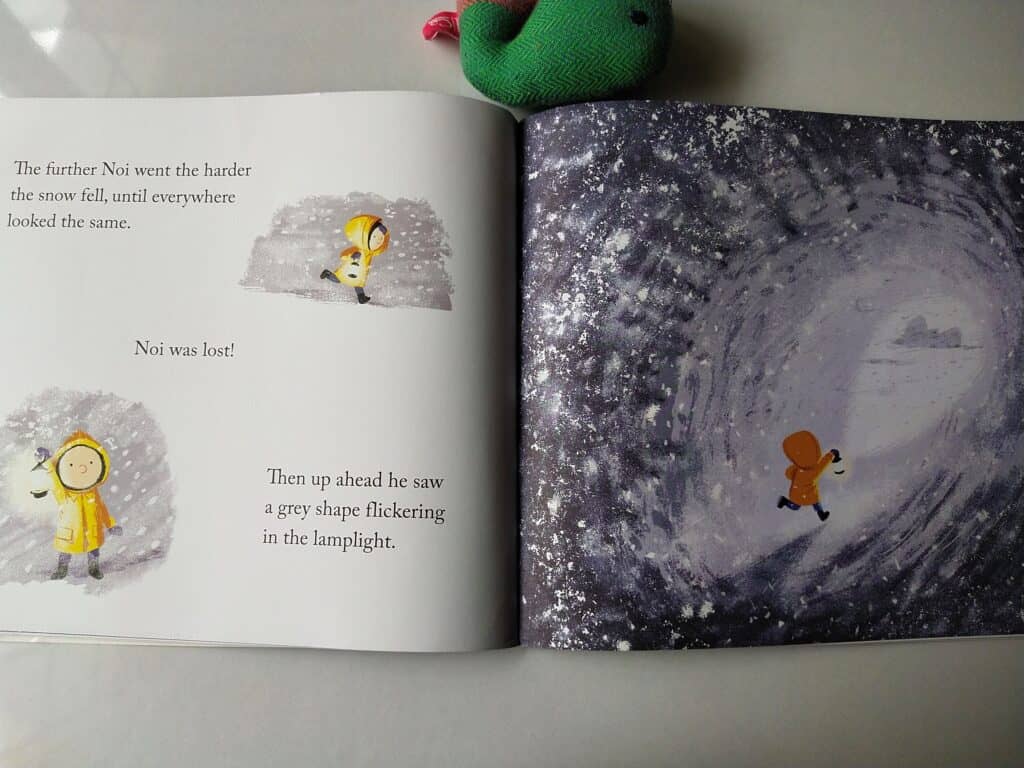 Noi was so surprised to find his friend storm whale pushing the boat along with his family. The storm whale took Noi to a lighthouse where his dad was rescued by other fishermen.
Noi was so happy to find his dad. They safely reach home and never fails to remember the story of the snowy night and how the storm whale rescued Noi, just like he rescued it last summer. A beautiful ending just like the last sequel.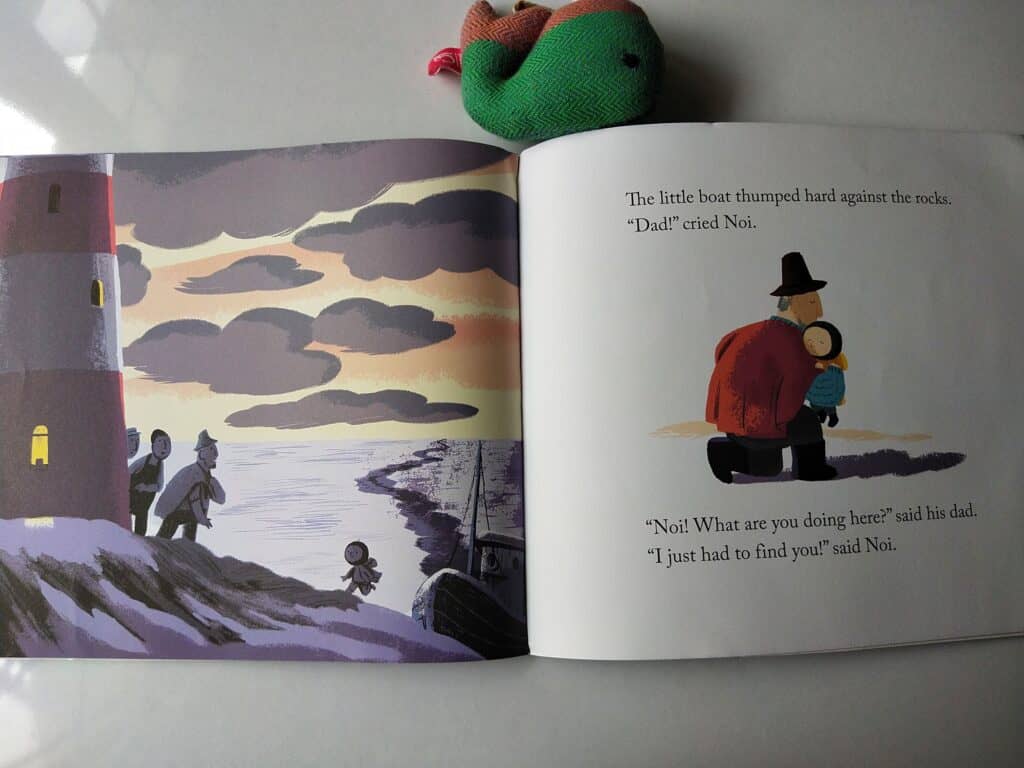 The author has written and illustrated a heartwarming tale for all-age readers. This is a simple story, but it holds an important trait every kid show knows, "HELP" your fellow beings. Young kids should be taught how to help animals/birds/humans without any expectation back. A small kindness will always back to us in any form. Also, they should know what is gratitude? We can easily let them know how the storm whale helped Noi when he is in danger and how it returned its gratitude. Help and gratitude are something that is widely lost in the world, and I am glad to find books like these to nurture young minds.
A beautiful book that says all the traits and keepsakes for all kids. Apart, from traits, we can use this book to learn about seasons, whales, lighthouses, fishermen, ocean.
A few days back we went to a beach amid this huge pandemic and we found the sea went in and washed away many specks of dirt While reading this book I said the whale washed by the shore. He immediately said, Just like the dirt we saw on the shore. Quite surprised to see the little mind's work.
Fiction story or non-fiction book, the curious mind will always find questions and we should be prepared to answer them at any time.
To read more Benji Davies books, click on the links below.
To read more book reviews CLICK HERE
Please follow and like us: