BOOK NAME: MY FIRST BOOK OF SHAPES GOD'S WAY
AUTHOR: LINDA WINDER
PAGES: 10
PUBLISHER: EDUCATIONAL PUBLISHING CONCEPTS
A cute biblical book perfect for toddlers to learn shapes, colours, and a bible verse. Each shape is associated with a bible incident and a great way to discuss it with toddlers.
CIRCLE
But the father said to his slaves, Quickly, bring out a robe the best one and put it on him; put a ring on his finger and sandals on his feet.

Luke 15:22
This shape-circle is compared to the ring the father puts on for his son after he returned from his wild life.
The story of the Prodigal Son begins with a man who has two sons. The younger son asks his father for his portion as an early inheritance. Once received, the son promptly sets off on a long journey to a distant land and begins to waste his fortune on wild living. When the money runs out, a severe famine hits the country and the son finds himself in dire circumstances. He takes a job feeding pigs. Eventually, he grows so destitute that he even longs to eat the food assigned to the pigs.
The young man finally comes to his senses and remembers his father. In humility, he recognizes his foolishness and decides to return to his father and ask for forgiveness and mercy. The father who has been watching and waiting receives his son back with open arms of compassion. He is overjoyed by the return of his lost son. Immediately, the father turned to his servants and asked them to prepare an enormous feast in celebration of his son's return and gave him a new ring and a new dress.
SQUARE
But I was let down in a basket through a window in the wall, and escaped from his hands.

2 Corinthians 11:33
This square shape is compared to a square window. After being confronted by Christ, Paul's mission changed instantly. He had come to Damascus to preach to the jailed Christians. The Jewish religious leaders couldn't believe what they were hearing and wanted Paul dead. King Aretas agreed with them and posted guards to catch Paul leaving down and kill him. Paul learned of the plot, and some of the disciples of Jesus he had been staying with lowered him in a basket through a window to allow him to escape the city at night.
RECTANGLE
And they come unto him, bringing one sick of the palsy, which was borne of four. And when they could not come nigh unto him for the press, they uncovered the roof where he was: and when they had broken it up, they let down the bed wherein the sick of the palsy lay.

Mark 2: 3,4
This shape rectangle is compared to a rectangle window. Jesus is teaching in a crowded house in Capernaum when four men arrive carrying a paralyzed man on a bed. The men faced doorways so stuffed with people they couldn't get through, but our access to God is always open. They climbed up and opened the roof and let him down on his bed. Jesus saw this man and healed him immediately. We can ask anything of our almighty God and we will surely see a miracle.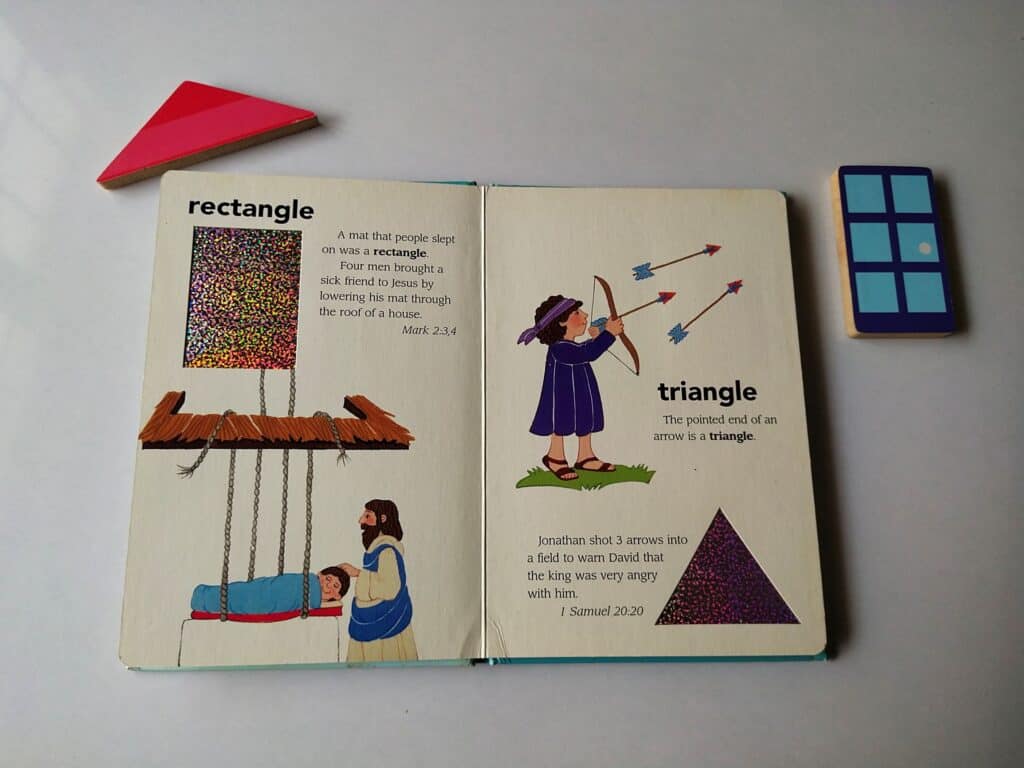 TRIANGLE
"I will shoot three arrows to the side of it, as though I were shooting at a target."

1 Samuel 20:20
This shape triangle is compared to a triangle arrow. Jonathan and David were closest friends. Jonathan is the son of King Saul, who in turn, dislikes David. King Saul wanted to kill David and Jonathan said he would find out what his father was up to. When Jonathan learned of his father's heart and intentions towards David, he would communicate with David through a signal.
Jonathan would take target practice and where he would shoot three arrows and would tell David the answer. He also says he will send a young boy saying, Go find the arrows. If I say to him, Look, the arrows are on this side of you, get them and come then as the LORD lives, there is safety for you and no harm. But if I say this to the young man, Look, the arrows are beyond you, go your way, for the LORD has sent you away.
OVAL
Elijah said to her, "Don't be afraid. Go home and do as you have said. But first make a small loaf of bread for me from what you have and bring it to me, and then make something for yourself and your son. For this is what the LORD, the God of Israel, says: 'The jar of flour will not be used up and the jug of oil will not run dry until the day the LORD sends rain on the land.'" She went away and did as Elijah had told her. So, there was food every day for Elijah and for the woman and her family. For the jar of flour was not used up and the jug of oil did not run dry, in keeping with the word of the LORD spoken by Elijah.

1 Kings 17: 13-16
This shape, oval, is compared to loaves of bread. God told Elijah to go to a widow who lives in Sidon. Elijah goes and finds the woman collecting sticks and asks her for some water. As she goes to get some, he tells her to bring him some bread, too. But she says she has no bread. She only has a bit of flour and a bit of oil. This was why she was gathering sticks, so she could make some food for herself and her son so that they could at least have this.
Elijah comforts her and tells her to go to her home and cook but first make him a cake from what she has in store, then feed herself and her son because the Lord says that her flour and her oil will not run out before the drought ends. What an amazing moment of faith.
DIAMOND
"And the child grew and became strong; he was filled with wisdom, and the grace of God was on him."

Luke 2: 40
This shape, a diamond, is compared to a flying kite. Jesus grew up in the little town of Nazareth, and Jesus grew and developed both physically and spiritually. Like every little Jewish boy, Jesus had to learn to walk and talk, play and work, interact with others and learn about the law and the prophets of Israel. And this verse gives a little information we have about Christ's early life. Just like this shape is compared, Jesus would have also played with a kite.
STAR
After Jesus was born in Bethlehem in Judea, during the time of King Herod, Magi from the east came to Jerusalem and asked, "Where is the one who has been born king of the Jews? We saw his star when it rose and have come to worship him."

Mathew 2: 1,2
This shape Star is compared to the wonder star, which helped the wise men to find baby Jesus. When Jesus was born, he had two visitors, according to the Bible. One of them was a wise man from the east. They carried gifts to baby Jesus and they found the stable in Bethlehem by a shining star.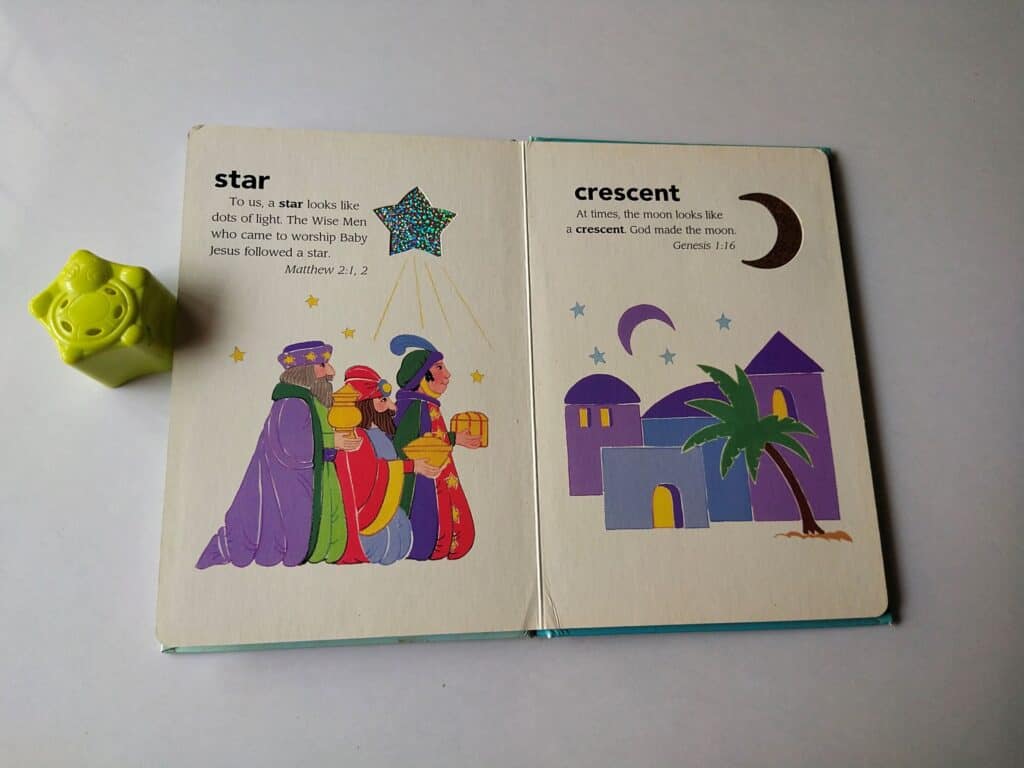 CRESCENT
And God made two great lights; the greater light to rule the day, and the lesser light to rule the night: he made the stars also.

Genesis 1: 16
This shape, a Crescent, is compared to a moon. The sun and moon were created on the third day of creation. It is specifically mentioned in the verse, the moon was created to rule the night.
SEMI-CIRCLE
And going on from thence, he saw other two brethren, James the son of Zebedee, and John his brother, in a ship with Zebedee their father, mending their nets; and he called them. And they immediately left the ship and their father, and followed him.

Mathew 4: 21,22
This shape, a semi-circle is compared to a boat. Jesus, during his early days of ministry, was picking disciples. His disciples were fishing men and while he was going from thence he saw two brothers mending their nets. He called them to be his disciples and they immediately obeyed and became his disciples.
HEART
The LORD hath appeared of old unto me, saying, Yea, I have loved thee with an everlasting love: therefore, with lovingkindness have I drawn thee.

Jeremiah 31:3
This heart shape is compared to a sign of love. God has a unique and unfathomable love for all people, which was demonstrated toward us while we were yet sinners dead in our sin. Jesus paid the price for our sins so that His unconditional love and unswerving justice could be demonstrated through Him. Jesus was the One Who was wounded for our transgressions. He was the One who was bruised for our iniquities. He did not die because of who we are but because of His everlasting love towards us. Christ did not go to the cross because of what we have done, but simply because of who he is.
What an awesome book for toddlers!
To read more biblical books CLICK HERE
Please follow and like us: