Julia Donaldson became a popular author among the children for her beautiful stories. I knew about her when I read the Acorn series to Nathan. Some books are well-loved in our home and a few were a miss. I am going to break down her books according to age-wise and you can add them to your home library accordingly. These books are available in all pre-loved book stores and if you can look out for book sales and pick them at a great price.
Disclaimer: As an Amazon Associate, I earn from qualifying purchases. Clicking any of the links on this website does not increase the cost or affect the price for any product you purchase from Amazon.
BOOKS FOR AGE 1-2
Julia Donaldson has a beautiful series for toddlers. The Acorn Wood lift-the-flap books are perfect for their tiny hands. They come in board books and the interactive flaps are the best in them.
1. FOX'S SOCKS
Poor old fox lost his socks. So he looks around his house to find the socks, instead, he finds lots of his clothes. All clothes are under a flap and when the kid lifts the particular flap, they will find a particular piece of fox's clothing. Each page has rhyming lines, and those words help the child repeat the words easily.
2. HIDE- AND- SEEK PIG
Pig and hen decide to play hide and seek (we call peekaboo), Pig starts to count, and hen hides in a place. The Pig searches for the hen and finds different animals on the way. Together they search for the hen in a different place.
3. POSTMAN BEAR
Postman Bear is a simple story that follows a bear on his journey to post 3 letters for his friends. He wants to invite them to his birthday party and knocks on each friend's home. The book takes us through a series of clues behind each flap, and until we open the frog's flap we cannot find why the bear was giving each letter to his friends.
4. RABBIT'S NAP
Rabbit's nap is a lift the flap book about a rabbit who is feeling sleepy. Each time Rabbit tries to sleep in a chair or by the window, Tap! Tap! Who's that? A distraction. This book encourages the children to lift the flaps and find out who is keeping Rabbit awake each time.
5. CAT'S COOKBOOK
Cat wants to learn to cook. Will she find a book to help her? Lift the flaps to find out and join the cat and all her friends for a special surprise! This book is a new addition to the Acorn wood series, and it's launching this month-end.
To see more pictures of the above books CLICK HERE
6. THE GRUFFALO TOUCH AND FEEL
If you wanted to introduce Gruffalo to your 1-year kid, this book will be a perfect start. With different textures on each page, this book will be loved by them.
7. LET'S FIND ZOG: A LIFT THE FLAP BOOK
Zog is hiding somewhere. Find out where he is in this awesome board book.
BOOKS FOR AGE 2-3
This is a toddler phase and slowly you can transit from board book to paperback. The books mentioned under them are repetitive texts and small sentences on each page.
1. HIPPO HAS A HAT
The animals go shopping, and there is chaos. Each animal picks funny dresses and toddlers will have a riot of laughter while reading it.
2. ONE MOLE DIGGING A HOLE
A counting book for toddlers in Julia Donaldson style.
3. WHAT THE LADYBIRD HEARD SERIES
There are four books in this series. Each book revolves around a ladybird, and how it saves the day from the robbers.
4. ANIMALPHABET
An alphabet book with beautifully illustrated pictures on each page.
5. GOAT GOES TO PLAYGROUP
Have a child starting playgroup? pick this book.
6. TODDLE WADDLE
A rhyming book that talks about the scene at the seaside.
7. ONE TED FALLS OUT OF BED
A counting book with a bear's adventures on the night he fell out of bed.
8. MONKEY PUZZLE
Baby monkey has lost his mum. He can't find her. A butterfly tries to help him with hilarious results and no success. When will the baby unite with his mum?
9. COUNTING CREATURES
A stunning counting book full of gorgeous baby animals, with amazing flaps to lift and holes to peep through
.
BOOKS FOR AGE 3-5
This age is perfect to introduce long stories and there are many stories by Julia Donaldson for this age group. According to your kid's preference, you can choose the books.
1. CAVE BABY
Cave Baby lives in his cave, with his parents who create wonderful paintings on the walls. When Cave Baby gets hold of the paint pots, his parents are cross at the mess he makes. That night a mammoth comes and takes Cave Baby away. At first, Cave Baby is afraid, but then they go to the mammoths cave and he is allowed to paint all he wants before the mammoth takes him back home. A good read for 3+ child.
2. ROOM ON THE BROOM
The story of a witch in her broomstick and her adventures she faces in her way. A rhyming book and one of Nathan's favourite. A good read for 3+ child.
3. SPINDERELLA
Spinderella the spider has a passion for football. But when she tries to play a match with her brothers and sisters, she doesn't know how many spiders should be on each team. Even worse, she can't count the goals! A good read for 4+ child.
4. A SQUASH AND A SQUEEZE
A little old lady lives all by herself but she's not happy her house is just too small, even for one. What can she do? The wise old man knows: bring in a flappy, scratchy, greedy, noisy crowd of farmyard animals. When she pushes them all out again, she'll be amazed at how big her house feels! A good read for 3+ child.
5. TYRANNOSAURUS DRIP
Everyone knows that tyrannosauruses are big and scary, so when a placid duckbill dinosaur's egg ends up in the wrong nest, confusion is sure to ensue! When the baby dinosaur hatches out, he's so out of place that his grisly big sisters call him Tyrannosaurus Drip. Enjoy the rhyming tale and his adventure. A good read for 3+ child.
6. SUPERWORM
Superworm helps all his friends, he is in trouble and will his friends return the favour and help him. A good read for 3+ and one of Nathan's favourite.
7. SHARING A SHELL
When Crab finds a new shell, he doesn't want to share it with anyone especially not a blobby purple anemone and a tickly bristle worm. But life in the rock pool proves tougher than Crab thinks and he soon finds he needs his new housemates. Another Nathan's favourite and a good read for 3+ child.
8. THE SNAIL AND THE WHALE
One little snail longs to see the world and hitches a lift on the tail of an enormous whale. Together they go on an amazing journey, past icebergs and volcanoes, sharks and penguins, and the little snail feel so small in the vastness of the world. But when disaster strikes and the whale is beached in a bay, it's the tiny snail's big plan that saves the day. A good read for 3+ child.
9. THE GRUFFALO
Walk further into the deep dark wood, and discover what happens when a quick-witted mouse comes face to face with an owl, a snake and a hungry Gruffalo! A good read for 2.5+ child.
10. THE GRUFFALO'S CHILD
But one wild and windy night the Gruffalo's child disobeys her father's warnings and ventures out into the snow. After all, the Big Bad Mouse doesn't really exist. ..does he?
A good read for 3+ child.
11. TABBY McTAT
Tabby McTat is a cat with the loudest of meee-ews and a best friend with a guitar. Together they sing their favourite songs delighting the crowds, until one day Fred disappears. Separated and alone, Tabby finds shelter and a new life with all the home comforts that any cat could dream of. Nathan didn't quite like this book, but a good read for 4+ child.
12.THE SMARTEST GIANT IN TOWN
George wished he wasn't the scruffiest giant in town. So when he sees a new shop selling giant-sized clothes, he decides it's time for a new look: smart trousers, smart shirt, stripy tie, shiny shoes. Now he's the smartest giant in town until he bumps into some animals who desperately need his help and his clothes! A good read for 3+ child.
13. THE PAPER DOLLS
A string of paper dolls goes on a fantastical adventure through the house and out into the garden. Suddenly a boy comes with a pair of scissors and cut the dolls into pieces. A tale of loss and how to adapt to it. A good read for 3.5+ child and another favourite read of Nathan.
14. TIDDLER
The book is all about Tidler who keeps on telling lies to explain his lateness. When he finds himself totally lost one day he finds his way back by following tales of his lies back home. A book which talks about the lie and a good read for 3.5+ child.
15. THE DETECTIVE DOG
When a crime needs solving, there's only one dog for the job! Join Nell the Detective and help solve the mystery of the missing books. A good read for 4+ child.
16. THE HOSPITAL DOG
Dot loves visiting the children of Wallaby Ward and they're always pleased to see her too; from a crying baby to a bored teenager – a pat, a stroke and a cuddle with Dot cheer everyone up. But the work of the hospital dog doesn't stop there and when one of her patients is in trouble, it's up to Dot to save the day! A good read for 4+ child.
17. THE EVERYWHERE BEAR
The Everywhere Bear has a wonderful time with the children in Class One, but one day he gets more than he bargained for when he falls unnoticed from a backpack and embarks on his own big adventure! He's washed down a drain and whooshed out to sea, rescued by a fishing boat, loaded onto a lorry, carried off by a seagull. How will he ever make it back to Class One?
A good read for 3+ child.
18. THE GO AWAY BIRD
One by one, the other birds fly into her tree, wanting to talk or to play, but the Go-Away bird just shakes her head and sends them all away. But then the dangerous Get-You bird comes along, and she soon realizes that she might need some friends after all. Nathan's favourite read and a good read for 3+ child.
19. THE FLYING BATH
When everyone has left the house in the morning, the bath toys spring into action and head off on exciting adventures in their magical flying bath! From showering a muddy piglet to putting out a fire for a frightened baboon, they have water at the ready for any emergency – but they're always home for the children's bathtime at the end of the day.
A good read for 3+ child.
20. THE MAGIC PAINTBRUSH
With her magic paintbrush, Shen can paint steaming pots full of fish and oysters to feed the hungry people in her village, but when the evil emperor hears of her gift he commands Shen to paint gold for him instead. She is determined to keep her promise to paint only for the poor, but how can she match the emperor's mighty power? A good read for 4+ child.
21. ZOG
It's a wonderful tale of a young dragon who wants to earn his star in dragon school and is befriended by a young princess who wants to be a doctor. Another favourite of Nathan and a good read for 3+ child.
22. ZOG AND THE FLYING DOCTORS
Pearl and Gadabout are now a flying doctor trio, caring for creatures including a mermaid, a unicorn and a sneezy lion. However, when bad weather forces them to land at the palace, Pearl is locked up by her uncle, the king. It's now in hands of Zog to save her. Favourite read of Nathan and a good read for 3+ child.
You can read the full review of Zog and Zog and the flying doctors HERE
23. THE STICK MAN
Stick Man lives in the family tree With his Stick Lady Love and their stick children three. But it's dangerous being a Stick Man. A dog wants to play with him, a swan builds her nest with him. He even ends up on a fire! Will, he ever get back to the family tree? A good read for 3+ child.
24. THE UGLY FIVE
It talks about five savannah animals and rejoicing in their ugliness and delighting their babies, who think they're perfect just the way they are. I would not recommend this book below 5-year child as it categories animals as 'ugly'.
25. THE HIGHWAY RAT
The Highway Rat terrorises the local village. Cunning, daring and altogether selfish, he delights in stealing the locals' food. But they won't stand for it much longer. A good read for 4+ kid.
26. THE SMEDS AND THE SMOOS
The Smeds never mix with the Smoos. So when a young Smed and Smoo fall in love, their families strongly disapprove. But peace is restored and love conquers all in this happiest of love stories. A good read for 4+ child.
27. THE COOK AND THE KING
The story tells how the King begins his search of finding a cook, but ends up employing Wobbly Bob who is anything but a cook! And what the king fails to realise is he does his own cooking but only once he's caught his own fish, dug up some potatoes to cut into chips to go with his fish. A good read for 4+ child.
28. NIGHT MONKEY, DAY MONKEY
Night Monkey and Day Monkey don't think they have much in common. But when they each spend time in the other's opposite world, they learn to be the best of friends.
A good read for 3+ child.
29. THE GIANT JUMPEREE
Rabbit arrives home one day to hear a loud voice coming from inside his burrow: "I'm the Giant Jumperee and I'm scary as can be!" shouts the stranger. Rabbit's friend's Cat, Bear, and Elephant come to help, but they're no match for the mysterious, booming voice. But who is the Giant Jumperee? A good read for 3+ child.
30. FOLLOW THE SWALLOW
When Apollo the swallow flies to Africa, Chack the blackbird wants to send him a message. But Africa is far away. Can a jumpy dolphin, a grumpy camel, a greedy crocodile and a playful monkey help to deliver the message? A good read for 4+ child.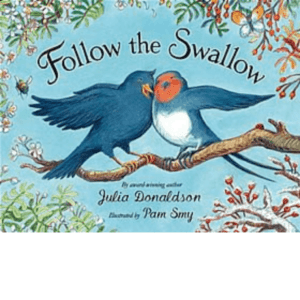 There are book bundles from Julia Donaldson and they are a cheaper option if you like them to get as a whole set.
Julia Donaldson also authored chapter books and phonics books for 5+ children.
To read more book reviews CLICK HERE
Please follow and like us: