A sensory bin is something that's popping up over the whole social media from time to time and sometimes they can be overwhelming with so many options. I have jotted down a few ideas where you can set up a simple sensory bin from your pantry.
What's a sensory bin?
A sensory bin is a bin or a container filled with any filler to stimulate a child's play. The filler can be any textured thing from sand to water to kitchen ingredients. Have a wider container filled with fillers to let your child explore and stimulate their senses.
Why should we have a sensory bin?
Sensory fillers stimulate a child's five senses, when your kid is overwhelmed or bored or throwing tantrums, take a container and put in any fillers, add some toys, and present it to them. This helps them to calm down, use their imagination, and enhances the kid's curiosity. The more the kid is exposed to a sensory texture, the less they will be picky eaters.
What can a kid learn from a sensory bin?
The five senses: Imagine a bin full of dry pasta. The kid sees the dry pasta. Touches it, hears the rattles of pasta, if dyed, smells the pasta and if its cooked pasta tastes them. That's the versatility of this play.
Practical skills: No sensory bin is complete without construction toys and pouring scooping toys. When a child engages in this play, unknowingly, they learn basic life skills.
Language Development: Imagine you set up a farm sensory bin and leave it as an invitation to play. A kid observes them and later has a conversation about it. They talk and get immersed in the play.
What to fill in the sensory bin?
Let us divide this into three parts
Fillers
Toys
Learning essentials
FILLERS:
What can be filled in a sensory bin?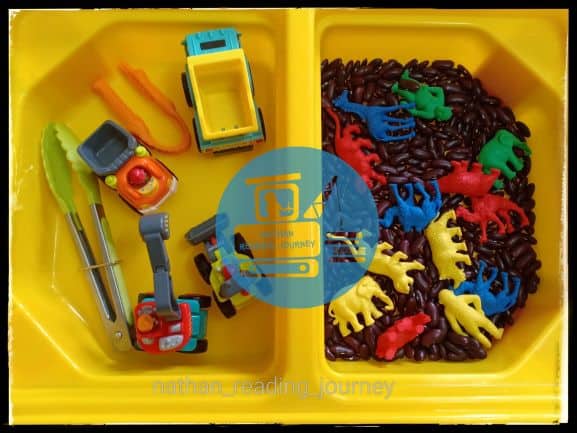 Rice dyed or plain
Pasta dyed/plain
Rajma
Lentils
Wheat
Corn
Oats
Peanuts
Chickpeas
Split peas
Green gram
Beans
Leaves
Sand
Seashells
Cornhusk
Shredded paper
Cotton balls
Peanut shell
Pompom
Water beads
Cloud dough
Moon sand
Kinetic sand
Homemade snow
TOYS:
Once we set up a bin with fillers we need something to play with and also to make their playtime fun. We can add any toys like,
Animal figurines (when setting up a unit study)
Alphabet puzzle pieces
Number puzzle pieces
Shapes puzzle pieces
Coloured wooden blocks
Wooden coins
Pebbles
Small cars
Construction toys
Popsicles
LEARNING ESSENTIALS:
To enhance a child's fine motor skills, add some tools to the sensory bin. Anything from our kitchen pantry will help. A few tools to use are,
Measuring cups
Tongs
Tweezers
Plastic cup
Bowl
Scoopers
Droppers
Shovel
Masher
Funnel
What activities can we set up using a sensory bin?
Letter identification
shape identification
Theme study
Animal play
Construction play
Texture play
Important disclaimer/guidelines for sensory bin play
Adult supervision is required for kid's babies and for kids who are still mouthing objects. If your kids are still mouthing, you can add edible fillers into the bin.
Restock items periodically according to their shelf life.
The sensory bin contributes to a mess, so be prepared for that and make sure you ask your kids to help.
Store the fillers and the bins in a safe place to reuse them periodically.
Hope these pointers will help set up your sensory bin. If you set up your sensory bin tag me on Instagram. Would love to see your creations. My Instagram handle is nathan_reading_journey
Please follow and like us: